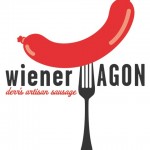 The Wiener Wagon features Derr's Artisan Sausages, local meats and customizable menus for your event. Whether it is a family party, corporate function or celebratory gathering, the Wiener Wagon can take care of all of your catered food needs.  From festival fare to fine dining, we've got you covered.
Our "mobile home" will be The Overland Park Farmer's Market (7950 Marty OPKS) beginning April 12th, then the first Saturday of each month (May-Nov) & every Wednesday (May-Sept) in 2014.  We serve breakfast & lunch, as well as offer fresh frozen bulk packs.
Our craft sausage menu offers traditional favorites such as Bratwurst & Italian Sausage, as well as soon to be favorites like Bacon Cheddar Hog Dogs, Buffalo Chicken Links and Bacon Sausage.  Check out some of our other varieties.
Arrowhead Specialty Meats supplies us with pork from American Homestead Natural Meats & chicken from Gerber's Poultry.  Currently, we serve our sausages on buns from Sasha's Baking Company.
thesausagekingofkansascity@gmail.com